I first started using whipped tallow when I was freshly postpartum with my son in 2020. A close friend had mentioned it could maybe be helpful with new breastfeeding pains I was experiencing, so I ordered some so fast! I have been hooked ever since.
Tallow is rendered animal fat. When sourced well, it is filled with nourishing goodness that is incredible for skin and overall wellness. Tallow contains vitamins A, E, D, K, and B12 as well as other great minerals. As a healthy fat and an organic sebum, it naturally locks moisture into our skin without any clogging affects. It works especially well when applied to wet skin, so that it can truly lock moisture in.
So why make your own when you can purchase from some amazing shops (which I'll link below)? Because it can truthfully just be more cost effective – especially if your family of five all uses it multiple times a day 😉 that's the case for us! We use it constantly, plus tallow is also amazing for cooking with. If you simply prefer to support a small shop, and have it already made to perfection without the work, then I'll tell ya my favorite shops at the end.
Gather your supplies! For this recipe, I included organic raw shea, BUT you do not have to use that. We have actually had this sitting around for a while so I just wanted to use it up while also stretching my tallow out a bit. So I include that in this recipe, however you can simply forgo it if you prefer.
You can use these exact measurements, and they'll yield about 2, four ounce jars, but you can double it if you want, too!
1/2 cup melted tallow

2 Tbsp melted shea

2 Tbsp jojoba oil

30 drops your favorite essential oil (I used centered by far&wild, but Frankincense is another great one!)
Measure out and melt your tallow (and shea if you decide to add that) — be sure to scoop MORE than the melted amount when solid, as it'll shrink when melted… on LOW to MEDIUM heat. A double broiler it ideal for this (or a glass bowl over your pot of boiling water), as to not accidentally cook your tallow. I did not do this, but you should 😉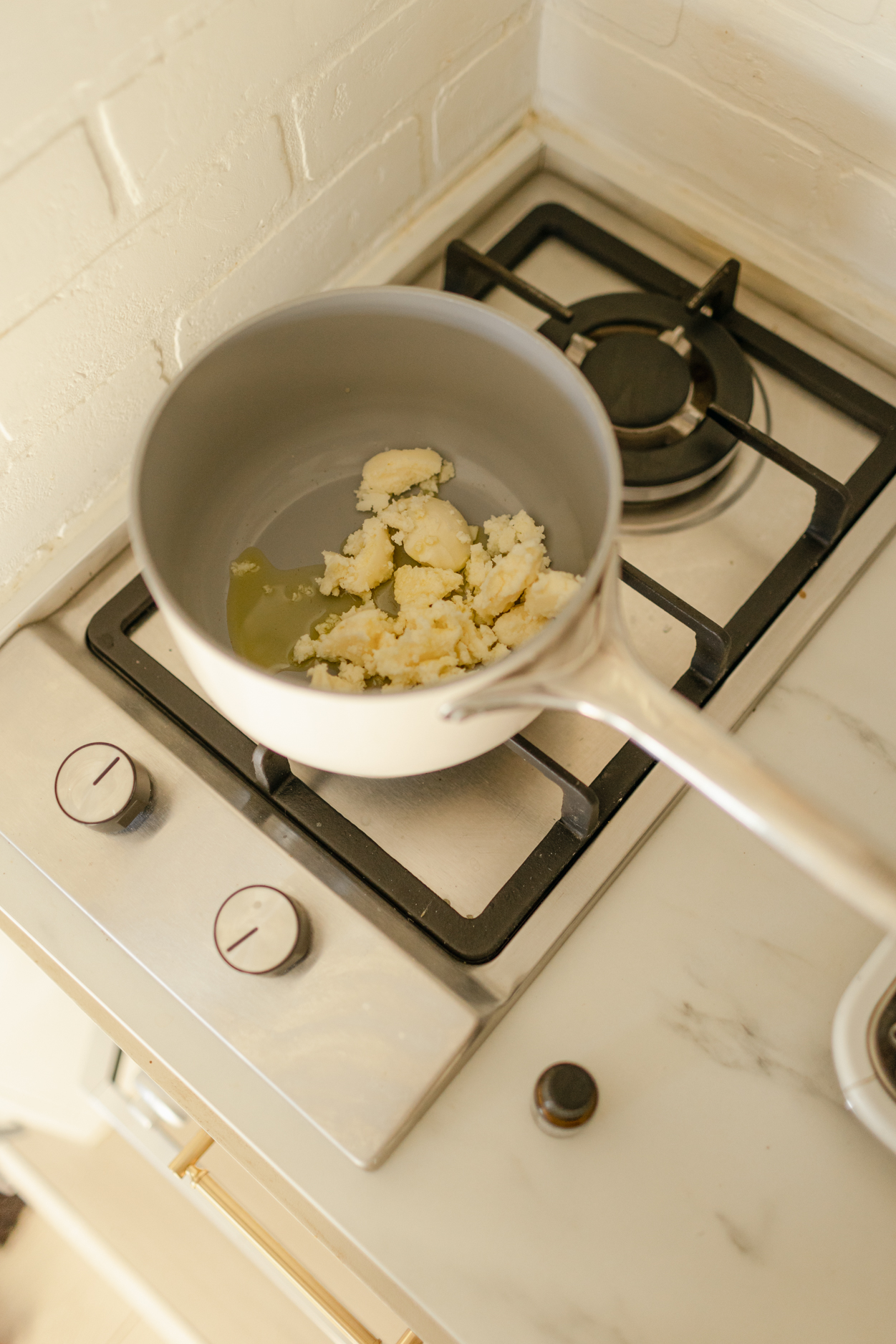 Remove your melted tallow from heat, and transfer to a glass jar. Let cool for 15-20 minutes.
Add your essential oil and jojoba oil to your cooled, melted tallow. Transfer to your refrigerator to cool completely, then remove and add to a large bowl, and mix until fully whipped.
Note my little helper 😉
Once whipped, just add into your jar and enjoy! You can use a baggie to get a fun piped look, too. I scooped my body butter into the bag and cut off a corner to squeeze into the jar. It's less messy and looks pretty!
Use it daily and see how your skin transforms with all the naturally occurring vitamins, minerals and healthy fats! Your skin will thank you! If you try it, tag me on Instagram and I'd be thrilled to reshare ya!
If you prefer to purchase whipped tallow body butter, I love this shop. She has so many lovely things to purchase! You can use code MARY10 for a discount, too! 
I've also been a long time customer of this shop, and you can use code MARY10 for a discount at her shop as well!
These jars of homemade body butter make a wonderful gift for your loved ones as well! Keep it in mind for special occasions and holidays. Pair with some organic herbal tea in a matching jar and your loved ones will feel so blessed!
Be sure to tag me in stories if you try it out! I can't wait to see your own whipped tallow.